BCBA Board of Directors

President
Bob Allen - CEO of ABC Communications
Bob Allen is the founder and CEO of ABC Communications, one of the largest provider of rural broadband service in the province. Bob began his career as a Journeyman Electrician in 1972 and worked as a contractor on various large projects in the Cariboo region during the 80s. He served as President of the Quesnel Construction Association and as Chairman of the Board of the Northern B.C. Constructions Association during that time. In 1989, he founded ABC Communications with wife, Christine. He is in charge of ABC's strategic corporate planning and business developments, as well as technical, engineering and financial operations.
He is also the primary architect of the company's extensive licensed broadband wireless network throughout the province, and is responsible for ABC's corporate and government wireless portfolio. Under his guidance ABC has grown to where it sits today - with thousands of Dial Up, ADSL, Wireless and Web customers serviced throughout the Interior of BC. In 2001, Bob was appointed the president of Open Source Solutions (OSS), a consortium of 10 B.C. ISP's, with combined revenues over 15 million. OSS is a significant supplier of high-speed Internet connectivity to provincial government ministries and schools. Bob has lead OSS to be a key player in helping to solve the digital divide through the Network BC Connecting Communities Agreement.

Secretary & Treasurer
Rey Sonico - Project Coordinator at ABC Communications
Rey has been the Secretary and Treasurer of the BC Broadband Association since 2019. He is a Project Coordinator at ABC Communications. He started working with ABC Communications in May 2009 initially managing a broadband deployment project for the company. He was also part of the team that led the successful implementation of the BC Broadband Conference since 2009.
Prior to joining ABC Communications, Rey has over 10 years experience in the telecommunications industry in management and specialist roles involving telecom switches, data network operations monitoring, maintenance and troubleshooting, and fibre optics with a leading service provider specializing in fixed line.
Board Member
Chris Allen - President of ABC Communications
Chris Allen is the President at ABC Communications. He has worked closely with his father, Bob Allen, over the past decade to grow the family business into new markets. While rural broadband is one of the biggest areas of growth for the company, it has also worked to provide telecommunications services to its urban business market throughout the Province. Chris has been involved with the BC Broadband Association since its inception and is eager to grow the group of companies and organizations it can represent to provide a stronger voice for BC.

Board Member
Dave Bradich - President and CEO of ispeed Communications Inc.
Dave Bradich is the founder and President of ispeed Communications, a wireless ISP and telephone service provider, serving the BC Interior for over 8 years. Prior to starting ispeed, Dave spent over 20 years with Motorola in sales, marketing and management positions throughout Asia. Dave believes customer service is one of the most critical elements of running any business. Dave holds a Bachelor of Engineering degree from McMaster University.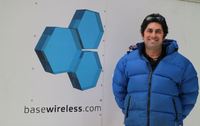 Board Member
Davin Peterson - Executive Director of Base Wireless
Davin Peterson is the founder and CEO of Base Technology Limited. BSc. Eng. Princeton University. Mech. CompSci. Software engineering and embedded systems, over 20 years commercial IT experience with governments, academic and private industry. Base Wireless is a division of Base Technology providing Internet for rural communities, resorts, First Nations and remote industrial applications delivering certified fibre optic networks, wireless communications infrastructure and friendly local 24hr customer service. Davin also has an interest in artificial intelligence and robotics.
Open global communications networks are essential for the survival and evolution of our civilizations.
Board Member
Robert Richards Treasurer - Com Com Services
Board Member
Tim Ryan - Kaslo InfoNet Society Board of Directors | KiN Technical Services Committee
Tim Ryan has been involved in imaging businesses and imaging related IT applications for more than 35 years. He was the founder of Technicare Inc. a systems integrator, technical materials, and systems engineering company in the photography industry. He and partners formed Technicare Imaging which today is one of the largest online digital imaged goods manufacturers in Canada and serves professional photographers from coast to coast. In 2017 Tim retired from the Imaging industry.
In 2003, Tim and his wife moved to Kaslo, BC, only to realize just how limited rural connectivity is. Tim participated in a Village of Kaslo Broadband Committee in 2012, and joined the board of Kaslo InfoNet Society in 2013 bringing his experience with fibre served facilities and high performance networking. KiN as it is known was the first rural ISP to begin construction of Fibre to the Premises in 2014, and conducted the 2015 proof of concept trials for the innovative Fibre in the Lake Project. This recently completed backhaul project provides a 34 Km multiple 10 Gigabit backhaul to the CBBC network and a multi community 10 Gigabit feeder service to Kaslo and five more small communities. This project was a joint effort with KiN and Baylink Networks technical construction for Columbia Basin Broadband Corporation with funding from Columbia Basin Trust and NDIT / Networks BC.